Ski with a Champion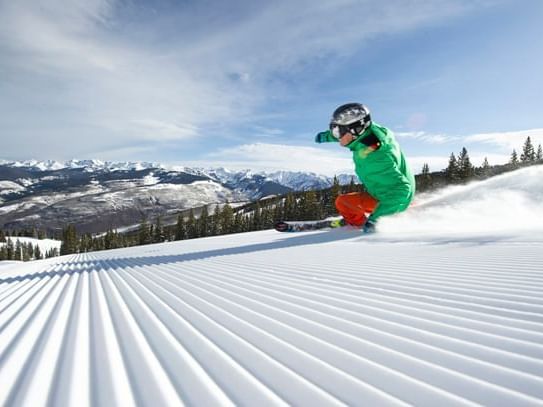 The Ski with a Champion experience also includes access to the Ski School lane at each chairlift. The program is also family-friendly and welcoming to skiers as young as seven years old. Keep in mind the experience is not a lesson, but it is a chance to spend some time with some of the best to grace the mountain!
About The Champions:
The team of champions is compromised by six individuals, each with Olympic experience. The following Champion biographies are available on Deer Valley's website.
CHRIS WADDELL
Chris Waddell is the winningest male monoskier in history. He is also one of only a handful of athletes to win World Championships in winter and summer sports. As a skier and a wheelchair racer, he always set his goals higher than just the top step of the podium. When he broke his back as a collegiate ski racer and then started to ski in a monoski, he realized that his performances gave a voice and an image to the disabled community, a largely forgotten segment of the population. In September of 2009, he became the first Paraplegic to summit Mt. Kilimanjaro. With the summit of the tallest mountain in Africa and his One Revolution Foundation, he's attempting to affect a social change in how we see ourselves and other people. Through an average person achieving an extraordinary feat, he hopes that we can all access our genius.
JILLIAN VOGTLI
Jillian is a two-time Olympian, two-time National Champion, and 13-year veteran of the U.S. Ski Team. She is known for her extensive success in the mogul and dual mogul events, as well as being the first woman to perform the Cork 720 in the Olympic Games. Jillian brings a unique sense of joy and excitement to the mountains with her effervescent personality, positive nature, and love for people. Regardless of your skiing ability, Jillian will introduce you to a unique winter experience that you will be talking about for years to come.
KAYLIN RICHARDSON
Kaylin, a four-time National Alpine Champion and 10-year veteran of the U.S. Ski Team, competed in the 2006 and 2010 Winter Olympics. After retiring from the World Cup in 2010, Kaylin became a big-mountain skier and won the Freeskiing World Tour's North American Championship in 2012. She has been featured in many Warren Miller films. Kaylin's passion is sharing her love of skiing. Seeing the spark of recognition/excitement in someone's eye when it clicks never fails to thrill her, whether they're on the bunny slope or on a double black diamond!
KRIS "FUZZ" FEDDERSEN
Fuzz competed in three Olympics and numerous World Championships. He also coached the 1998 U.S. Winter Olympic Aerial Ski Team winning two gold medals. He was elected to the U.S. Ski and Snowboard Hall of Fame and is widely recognized as a pioneer in the sport of freestyle skiing. Fuzz welcomes skiers of all levels for a customizable full mountain experience.
SHANNON BAHRKE
Shannon won a silver medal in mogul skiing here at Deer Valley Resort in the 2002 Winter Olympic Games. She became the first U.S. freestyle skier to win multiple Olympic medals with her bronze medal win at the 2010 Winter Olympic Games in Vancouver. She is a three-time Olympian, 2003 Overall World Cup Champion, and six-time U.S. National Champion.
TRACE WORTHINGTON
A two-time Olympian and U.S. Ski Hall of Famer, Trace wrapped up an impressive freestyle skiing career by earning 37 World Cup victories, seven world titles, and a total of 79 podium finishes on the FIS World Cup circuit. Trace remains the most decorated male freestyle skier in U.S. history. His expertise will be utilized by NBC at the famed Deer Valley Freestyle World Cup and the 2022 Beijing Olympic Winter Games. As a respected local and Deer Valley pass holder for over two decades, Trace's vast knowledge of the mountain and fun attitude is a perfect fit for guests of all levels looking to customize their on-hill experience.
With the 2022 Olympic Games just around the corner, the best way to get into the Olympic spirit is to share the lift with someone who has experienced it first hand and has plenty of stories to share.
Don't hesitate to get in touch with Deer Valley for more information about this unique experience.